Translate Multimode signals to Singlemode Fiber
CL-155 is a Fast Ethernet, FDDI, OC-3 or ATM mode converter that translates transmission signals from a multimode optical signal to a singlemode optical signal.
CL-155 can be configured to transmit over one or two fiberoptic strands.
CL-155 expands LAN network data transmission distances beyond the 2km limitation of multimode fiber to a maximum of 110km over singlemode fiber. Fast Ethernet requires full duplex for extension beyond 2km.
CL-155 has easy-to-read diagnostic LED's for continuous status of LAN and WAN system status.

For Sales Inquiries please contact us today: Contact Us!




Features

- Full Duplex Multimode to Singlemode Optical Transmission Conversion up to 155Mbps
- Compatible with OC3 or ATM Optical Signals
- Compatible with Fast Ethernet Optical Signals
- One Multimode Fiberoptic Port (LAN)
- One Singlemode Fiberoptic Port (WAN)
- 110km Transmission Range
- 1 or 2 Fiberoptic Strand Transmission
- Plug-n-Play


Example Aplication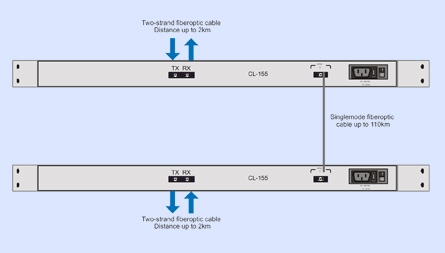 Model Selection

| | |
| --- | --- |
| | 155Mbps Mode Converter, 2 Port, 1 Singlemode Fiber, SC/APC Connector, 40km |
| | |
| --- | --- |
| | 155Mbps Mode Converter, 2 Port, 1 Singlemode Fiber, SC/APC Connector, 80km |
| | |
| --- | --- |
| | 155Mbps Mode Converter, 2 Port, 2 Singlemode Fiber, SC/APC Connector, 60km |
| | |
| --- | --- |
| | 155Mbps Mode Converter, 2 Port, 2 Singlemode Fiber, SC/APC Connector, 110km |


Specifications

1 x SC/PC Multimode LAN Port
1 x SC/PC or SC/APC Singlemode WAN Port
Operating temperature: 0°C to 50°C
Storage temperature: -20°C to 70°C
Operating humidity: 10% to 90% RH
Storage humidity: 5% to 90% RH
humidity: 5% to 90% RH
Voltage: 110/240V Auto-sense Internal Power
| | |
| --- | --- |
| | CE, FCC Rules Part 15 Class A |
LAN: 62.5/125 micron multimode fiber cable
WAN: 9/125 micron singlemode fiber cable
| | |
| --- | --- |
| | Power, LAN Signal Detect, WAN Signal Detect |