Rack-mountable CL-48 fibre optic base band video multiplexer
The CL-48 is ideal for operating and for transmitting up to 4 channels of base band video and 8 audio channels and up to 4 ASI or SDI over fibre optic cable. The CL-48 operates by digitizing and multiplexing 4 channels of standard base band analogue video into a high-speed serial cable using 12-bit sampling technology.
Because the system employs true digital transmission techniques, performance characteristics are consistent and maintained over the specified distance with absolutely no degradation of signal. There are no FM carriers that need to be tuned or that can drift over time. The low component count and use of customized ASICs increase system reliability and performance. The CL-48 is designed to work with standard singlemode or multimode for fibre optic cable and can be wall mounted or rack mounted. Built-in diagnostics LEDs for each channel; loss of video signal and optical link indicator facilitate rapid setup and the continuous monitoring of all phases of operation. Operation can be monitored remotely via optional remote monitoring capabilities.
SNMP can be supported as well.

For Sales Inquiries please contact us today: Contact Us!




Features

- 4 Channel Baseband Video Transmission
- 8 Audio Channels
- High Quality 10-bit Digital Video Sampling
- Transmit up to 110km over one strand of fiberoptic cable
- Field Expandable to 8 Video/16 Audio
- 67dBSNR
- Bidirectional Transmission available


Example Aplication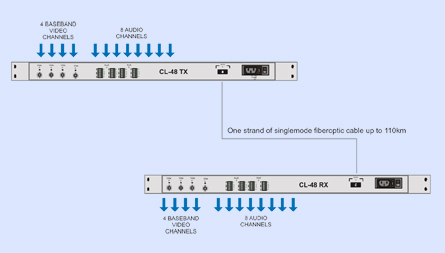 Model Selection

| | |
| --- | --- |
| | 4 video 8 Audio fiber optic transmitter 40Km |
| | |
| --- | --- |
| | 4 video 8 Audio fiber optic receiver 40Km |
| | |
| --- | --- |
| | 4 video 8 Audio 4ASI fiber optic transport |
| | |
| --- | --- |
| | 4 video 8 audio 2 ASI to fiber |
| | |
| --- | --- |
| | 4 video 8 audio ASI or SDI over fiber |
| | |
| --- | --- |
| | fiber optic system up to 80Km |
| | |
| --- | --- |
| | fiber optic system up to 120Km |


Specifications

Operating temperature: 0°C to 50°C
Storage temperature: -20°C to 70°C
Operating humidity: 10% to 90% RH
Storage humidity: 5% to 90% RH
| | |
| --- | --- |
| | Voltage: 110/240V Auto-sense Internal Power |
| | |
| --- | --- |
| | FCC Part 15 Class A, CE, UL, CUL, TUV |